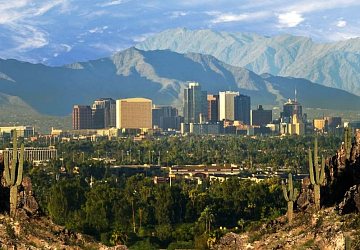 Vacation home and second home deals in Phoenix, Arizona allow you to build equity and wealth, while escaping the cold to relax and getaway to the Valley of the Sun.
If you're like the rest of the country, this past winter was more than long enough to bring spirits down. Maybe it's time you looked for a getaway retreat from the cold and take a look at the real estate market in Phoenix for your  vacation home. Sure there are plenty of other destinations that you could choose from to purchase a vacation home or second home, but none of them have to offer what the communities and real estate market in Phoenix does.
Worried About Building Equity In A Vacation Home or Second Home?
Despite the real estate market in Phoenix being one of the hardest hit in the housing recession, it is also one of the areas to make the fastest and best recovery. Real estate prices in Phoenix and throughout the surrounding area have increased by at least 9% in the past year with the expectancy to continue rising well into the future. You don't want to spend your money on a vacation home that isn't going to produce equity for you, do you? When you find your second home on the real estate market in Phoenix you can be sure it will be a great investment.
Never A Dull Moment As There Is So Much To Do
Not only is the real estate market in Phoenix something that should appeal to you, the surrounding communities have much to offer. From an abundance of golf courses to lakes and mountains, there is something for everyone in the Phoenix metro area. Buyers from all over the country come here simply to see what the area has to offer and end up wanting to stay.
So What Are You Waiting For?
If you're ready to buy a vacation home in a warmer climate, consider the real estate market in Phoenix the place to look. With steadily increasing property values and communities and neighborhoods that have much to offer, you can be rest assured that you will get your money's worth from the Phoenix metro area.
Search the Phoenix MLS Live
For more information or assistance, feel free to consult the Wells Realty and Law Groups. Our Arizona real estate attorneys are happy to assist you with any Arizona real estate questions. We can be reached at 480-428-3290 or info@WellsRealtyLaw.com.